TREK - Lantern, Flashlight Portable Charger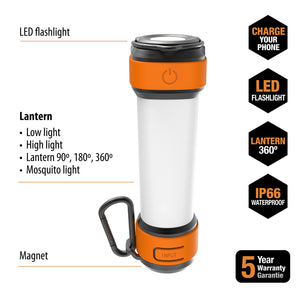 Product image 1
Product image 2
Product image 3
Product image 4
Product image 5
Product image 6
Product image 7
4000mAh USB portable charger

(2 amp/10-watt output. Single USB Port

).
300 Lumen Multimode lighting

(Flashlight, strobe, SOS, work light: 3 mode LED Lantern, Mosquito repellant light, and emergency fl­ash mode

).
IP66 waterproof rating

(full protection from heavy rain, dust and dirt).

Long life lithium ion rechargeable battery

(lasts up to 1 year without losing a charge

).
High strength magnets

(mount to any metal surface for hands free use

).

Run time for main Flashlight when fully charged:
At 100% brightness (400 lumens) Flashlight run time is 8hrs
At 50% brightness (200 lumens) Flashlight run time is 13hrs
Runtime for Lantern when fully charged:
When utilizing 1/4 (90 degrees) of the Lantern function run time is 12hrs
When utilizing 2/4 (180 degrees) of the Lantern function run time is 9hrs
when utilizing the full lantern function (360 degrees) run time is 6hrs
Run time for Mosquito Repellent light (red light) is 10hrs
Run time for Strobe Light is 12hrs
 How To Charge:
The TREK Flashlight Portable Charger requires a Type C usb charging cable to recharge. CABLE NOT INCLUDED