TOUGHTESTED HAND WARMER & PHONE CHARGER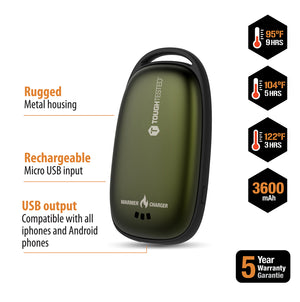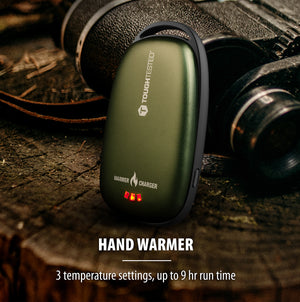 Product image 1
Product image 2
Product image 3
Product image 4

Product image 5
The ToughTested Hand Warmer/Power bank combo is the ideal accessory for your outdoor cold weather activities.
Emergency Power: 3600mAH rechargeable battery provides enough power to fully recharge your device via the USB A port.
3 temperature settings: Hand warmer temperature settings are 92, 104 & 122 degrees Fahrenheit (or: 35, 45 & 50 degrees Celsius).
Metallic Housing: Smooth Metallic housing provides great feel and Durability
The Toughtested Hand warmer is powerful and compact making it the perfect companion for ALL your cold weather outdoor activities ie: Sporting Events, Hunting, Camping, Ice fishing, All Snow Sports +more.