Vehicle Jump Starter w/ Air Pump & Power Bank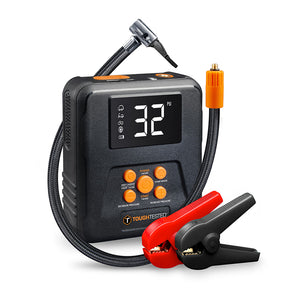 Product image 1
Product image 2
Product image 3

Product image 4
Product image 5
The Phoenix Jump Starter is a unique product kit consisting of a tire inflator, includes a portable air pump plus jumper cables along with a built-in charging power bank and its storage carry-on case. It's your complete solution for on the go and on the road charger for you and your entire family. The Phoenix features a Jump Starter, Tire inflator air pump, USB charging capabilities, a Multi mode LED light, it protects your devices against short circuit and overcharging and it includes a zippered nylon case to take this life saving product with you anywhere you go, so whether you're on the road, on a bike, car, truck, boat, ATV or even a golf cart, you'll feel safe knowing this item is within your reach at a moment's notice.
Jump Starter: Don't get stranded in the middle of nowhere! Jumpstart your battery, no matter what vehicle you drive.  The Phoenix works for cars, light trucks, boats, ATVs, golf carts, and more. 500 cranking amps (800A peak)
Air Pump/Tire Inflator: Under-inflated tires or mismatched tire pressure reduces fuel efficiency and road handling.  The Phoenix will stop automatically at the preset pressure level, so you know your tires are properly inflated. Works for cars, ATVS, Bikes, Basketballs, Beach Balls, Air Mattresses etc (72 PSI Max)
Phone Charger: 10W USB charger to fast charge your Smartphone and tablets at home, in the office, or on the road. Protection circuitry, won't allow short circuits or overcharging.

LED Light: Multi mode LED light (220 lumen work light with emergency lighting functions).