COMMUTER "POWER CUP" CUP HOLDER MOUNT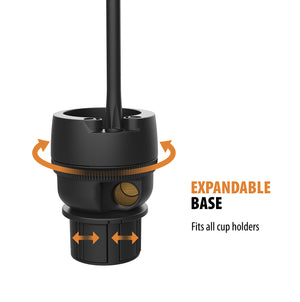 Product image 1
Product image 2
Product image 3
Product image 4
Product image 5
Product image 6
Product image 7
Product image 8
Add a rugged adjustable phone holder to your Vehicle without losing the convenience of your cupholder! The COMMUTER POWER CUP features:
*Expanding cupholder base fits all cupholders snugly
*9" Gooseneck arm offers ultimate adjustability and positioning
*Claw grip holds smartphones and other devices securely even with protective cases on.
*Holds devices in portrait or landscape mode
*Cupholder base swivels once locked into vehicle cupholder for fine angle adjustments
*Unique designs leaves space for beverages or loose change and features 2 slots for pens or stylus
*Features 2 USB-A, and single 12/24v DC Power socket
*Includes Heavy-Duty Power cord
*Holds phone vertically or horizontally 
*Professional grade for commercial vehicles.