TOUGH & HUNGRY CUP, BOTTLE HOLDER AND FOOD TRAY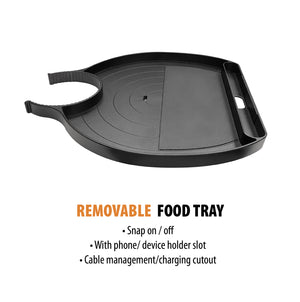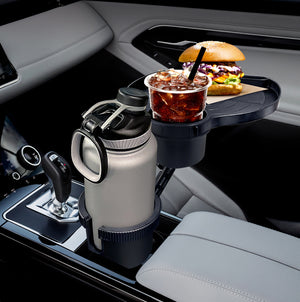 Product image 1
Product image 2
Product image 3
Product image 4

Product image 5
Product image 6
Product image 7

Product image 8
Tough & Hungry Mega XL cupholder expander with snap on extra cupholder and food tray with phone slot.  Expands your cupholder to hold XL bottles and cups up to 1.2L/40oz./cups-mugs with handles
Tough & Hungry is the ultimate travel companion for road warriors, long haul truckers or family roadtrips. It is designed to expand your vehicle's cupholder to accommodate cups, bottles, and other beverage containers up to 1.2 Liters.  Meant to accommodate today's thirsty mobile lifestyles Tough & Hungry Works with brands like Yeti, Hyrdoflask and more, Tough & Hungry even accommodates XL cups with handles.

 Tough & Hungry has the added roadtrip bonus features of a snap on extra cupholder and convenient food tray.  Keep your sandwich or burger & fries within easy reach with TNH's super adjustable food tray system.  No more fumbling for food on the passenger seat.  Keep your eyes on your fries AND on the road!
For your phone or small tablet, Tough & Hungry features a device slot with charging cutout and cable manager so you can keep charging while you roll or pull over for that lunchtime zoom call.
Heavy-Duty Expandable cupholder base twists to fit all vehicle cupholders, front or back. For Trucks, SUV's, RV's, vans, Campers, Boats, Tractors, cars, and more!
Snap on extra cupholder & Food tray helps you keep cruising during lunch.
Adjustable tray system lets you keep your eyes on the road while eating by putting your food in an accessible position.
Great for passenger or backset use!
Device holder slot in tray with cable management clips and charging cutout gives you a place to dock and charge your phone.
TOUGH TESTED'S FAMOUS 5 Year Warranty